ZHE OPERA

In 2005 and 2006 I travel to Damascus several times, get to know the country and its people and I like more and more what I find there. In spring 2006 I received a request from the National Syrian Orchestra asking if I was ready to play two pieces with the orchestra at a gala concert in May. What a question! Of course I am ready and agree with the chief conductor, whom I had already met on a previous occasion, to orchestrate one of my pieces for this purpose. He can choose, and he chooses "The Smile of the Clown", which I had written in 2001. It's a lavish evening at the sold out opera house.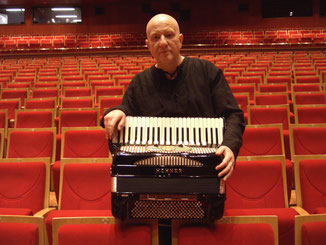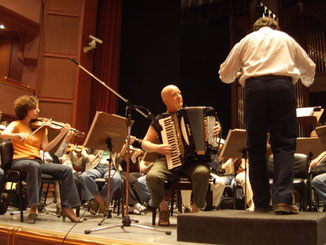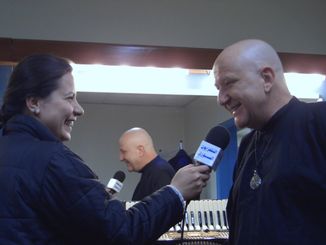 Damaskus Oper, Probe mit dem National Symphony Orchestra unter der Leitung von Missak Baghpodarian, TV- Interview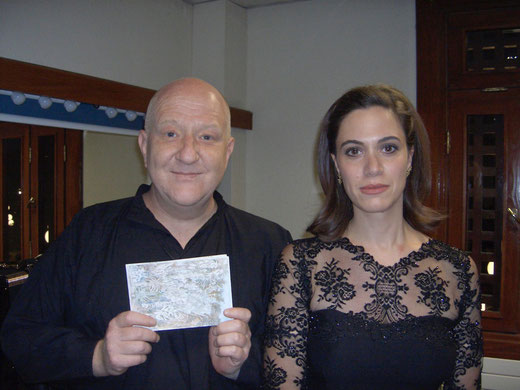 MA FI MINNAK
Anecdote: The concert is over, I am sweating through and just want to change my shirt when there is a knock on the door. I quickly put on the wet shirt again (you never know who is standing there) and open the door. There she stands, this beauty, a musician of the orchestra, and she gives me seven watercolours she has painted herself, which I still treasure today. She breathes "Ma fi minnak". I have no idea what she means, but I feel that it is meant very kindly and say "shokran". Later Manfred Ewel explains to me what this means. Translated one to one: "Does not exist like you", or in our language: "You are unique". What a compliment! I wrote a piece of this title shortly afterwards.

---

A DAMASC TABLE

A table in a restaurant is only considered full when every square centimetre is covered with cups and small bowls containing delicacies such as Hommos, Fattoush, Labneh, Makdus, Kebbeh or Muttabal. I make the typical beginner's mistake: I like it so much that I eat too much of everything. Because the real food doesn't come until after that, and I can't take it anymore. Fattoush is my favorite salad. With crispy toasted thin flat bread there is cucumber, tomato, mint and other things, and I eat it so regularly that a friend has given me the Arabic battle name "Abou Fattoush". Such a meal can last several hours, in between some suck on the "Hubble Bubble", the shisha and the air becomes sweet and heavy.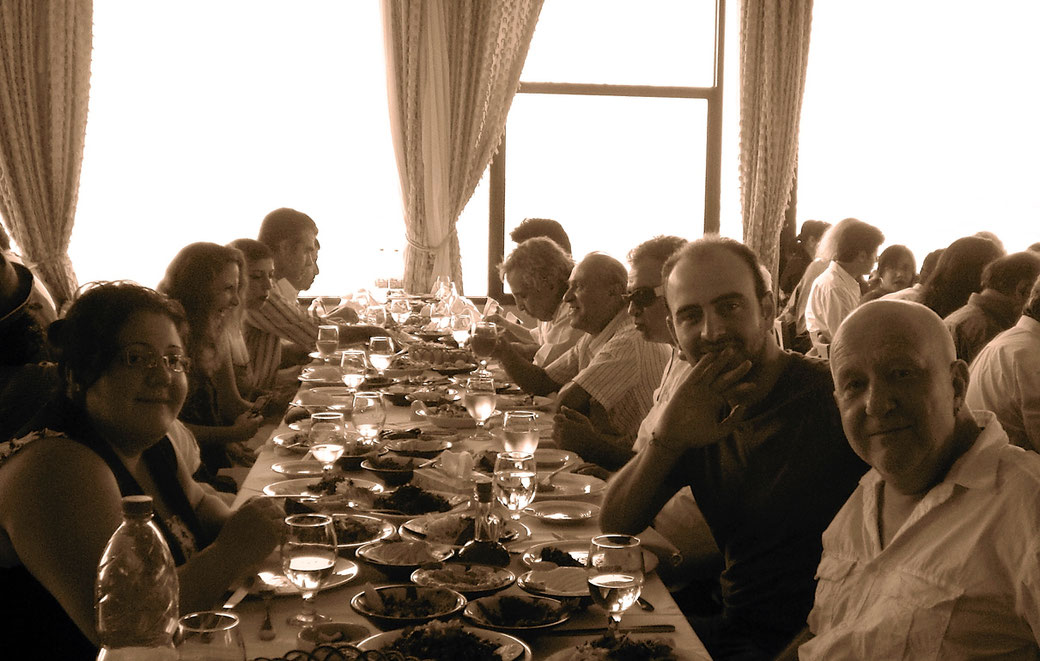 With Dima Orsho and Kinan Azmeh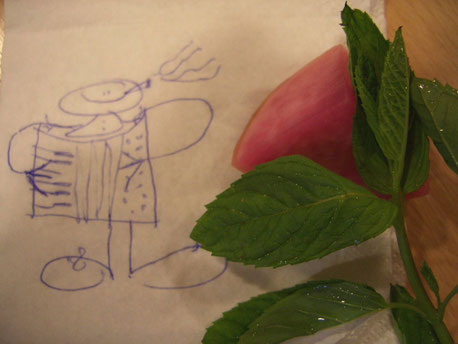 Still life with melon and mint by Lena Chamamyan

---
MONTEROSA - NINE DAYS OF SOLITUDE, OR EINFACH    "Y E S"

 
* In all my Syrian activities in 2005 and 2006, it's the same for all musicians, "yes, we're okay as musicians, but you should hear Kinan Azmeh". This name ghosts through the world of music, floating above everything, so to speak. I get the first CD of this master clarinettist and listen to an exciting style. The Oriental is clear, but also the search for something new. The group is called "Hewar", which means dialogue, and that's what you hear. On this CD you can also hear Dima Orsho and Essam Rafea, whom I already know. I like it, but this power of Kinan scares me somehow.

One day, I am back home in the imperial city, an e-mail from Kinan reaches me. The great spirit himself writes to me and makes the suggestion to record a second CD with Hewar together. He seeks dialogue. He proposes Monterosa, about 50 kilometres north of Damascus in the hills, as the place of action. There they will compose and rehearse for five days in a resort, then on the last evening, as a thank-you for the people who made this possible, a concert will take place in Monterosa, and the next day a performance in the citadel of Damascus. Afterwards two days in the studio. And I would like to suggest a drummer and a bass player. Steffen Thormählen and Antoine Pütz.

To avoid appearing greedy, I won't answer right away. But the next day I write exactly three letters in reply to the long friendly mail:

Y E S

No question about the trip, the conditions, the salary. In my experience, it always comes naturally. Steffen and Antoine are quickly persuaded, we search and find our time window, and the matter goes into the planning. Mails go back and forth, we discuss, send sheet music and Mp3s, we prepare ourselves.

Then it's time, we've been booked completely stupid flights. In the afternoon from Frankfurt to Istanbul, there a longer stop-over, then on to Damascus, where we land at 4:30 am. Nothing for older men... Whatever, we sleep a few hours in the Sham-Palace and are picked up there at noon and travel north in a minibus.

My star-conscious sister had predicted a "karmic encounter" for me in 2006. I was counting on a lady, but after ten minutes with Kinan it was clear to me what was meant. We understand each other, he tells me right at the first conversation that my "Arabesque" has opened his eyes, how one can also walk on other, own musical paths beyond the doctrine. And that he, "sorry sir", borrowed my intro slightly modified for a new piece. I'm generous...

In the afternoon we start rehearsing, it's really nice, true and good. Kinan, Dima, Antoine and I, we brought pieces that we tackle one by one. The great sensitive filigree drummer Steffen gives the pieces their basis.

The musical structures are not always simple, the rhythmic concept of "one" for example does not exist, a 7/8 is not seven eighths but for example 1-2, 1-2, 1-2-3.
Kinan's piece "The Wedding" (the one with the borrowed intro) is a 15/8, actually a 4/4 bar, which has lost an eighth in the end. I am inspired and learning.


---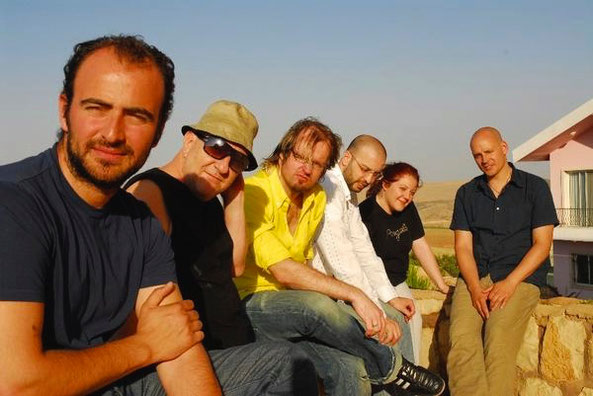 Short digression: It is always work to get your hands on unfamiliar processes. Especially when things go fast, the fingers must know the way, thinking does not come along. So it's practice! Very slowly at first, individual bars, then smaller contexts of meaning.

 

And gradually more and more, and only then increase the pace when you can slowly get through. Right now, as I am writing this down, I am again in one of these trials of patience. "A trip to Ghouta", a piece by Dima Orsho, which we will play in the Pierre Boulez Hall in Berlin.
                                                                                                                                    In Monterosa with

        Kinan Azmeh, Manfred Leuchter, Antoine Pütz, Essam Rafea, Dima Orsho, Steffen Thormählen
And I learned something else: If you are photographed as a band, you shouldn't wear a stupid hat, the picture could become the CD cover...
---
We compose, we rehearse, we learn to understand each other. To counter the sometimes elegiac heaviness of the other pieces, one night I write a lively little piece in 7/8, which reflects my mood quite well during the Monterosa period. The title is no surprise: "Monterosa".

And within five days we have a program that can be confidently presented. And that's what we do, first as a test in a small room in the resort. The next day we go to Damascus, where we play in the evening in the magnificent citadel. A warm summer night, a nice concert and an enthusiastic audience tell us: A project is born.



---
I travel to Syria again and again, get to know the country and its people, and play a lot. At some point I'm obviously a little celebrity, and they ask me to do nice but for me strange things, like for example a workshop in the Al Wataniah school. There are 3000 dwarves waiting for me on this day. And lots of fun.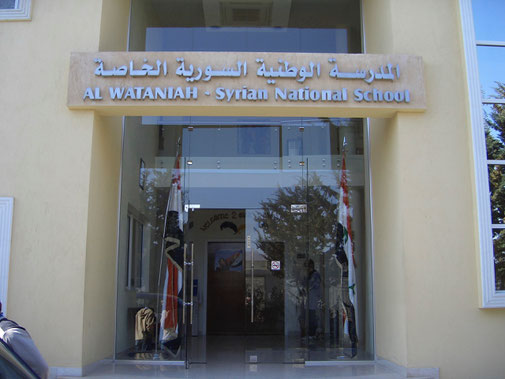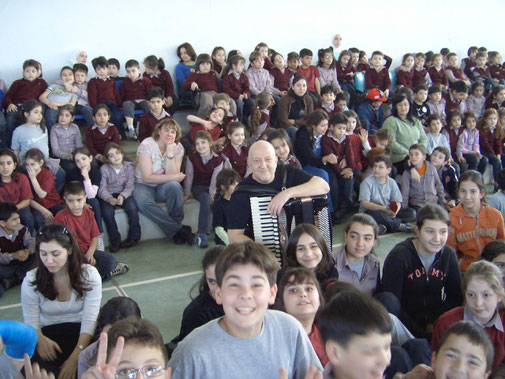 Wie viele von den Kleinen wohl den Krieg überlebt hat ?

---
THE CD - SELLER

On the way through the narrow alleys from the Umayyad Mosque to Bab Touma there are countless small shops where you can buy everything, but really everything. One day I stroll down there in a brooding heat, when suddenly a young guy jumps out of his shop beaming with joy. "You here? What a pleasure! Come in, have tea with me." It's a store selling CDs.

The tea comes, we talk a little and I look around. And there I see at the front, at the very best viewing height, my complete CD collection, everything nicely copied.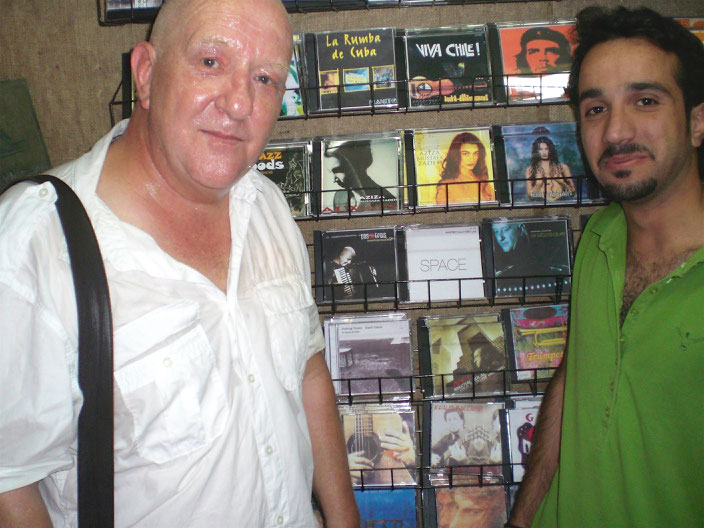 Two dollars fifty costs a CD. I have to giggle. I can't make them for that, but that's the way it works here. But it certainly contributes to the distribution and helps to fill the concerts. The salesman laughs. There's a new CD of mine out there, he heard. "Yes," I say, "her name is ZINA." If I could make these available to him, I know... "Sure," I answer, "I'll bring them by tomorrow."


We say goodbye, but wait, he still has one request: Could I maybe make the covers of the CDs a little brighter in the future? So much toner, with dark colors.

 
I'm afraid I can't do him that favor.
---
GOODBYE TO SHAM
(The ancient name of Damascus)
My last trip to Syria will take place in August 2010. We played open-air concerts in Tartous, the beautiful port city in the south, and in front of the Azim Palace in Damascus.  At the time, nobody thought it possible that the spark of "Arab Spring" could spread to this part of the Middle East. Now, 500,000 dead later, we know better. A tragedy.
---
REPERCUSSIONS
The contacts from this time are still alive today, we play together again and again. Basel Rajoub, one of my workshop participants of my first stay in Damascus, invites me to play with him at the Jazz Festival in Chamonix, against the magnificent backdrop of Montblanc at 2500 metres above sea level. We were also guests in Oslo. I have mixed and mastered his CD "Asia", for me one of the most impressive recordings from the region of the last ten years. I am always very happy when the "boys" (well, they aren't that young anymore) make their own careers. With Kinan Azmeh and Dima Orsho we went to Beirut, Amman, Marseille, San Francisco, to name only a few places.


Highlights were certainly the performances with "Hewar" in the Elbphilharmonie Hamburg and with Dima in the Pierre-Boulez-Saal in Berlin. And all these gentlemen have already been to my concerts. Preferably at Wilhelmstein Castle, but just as much in other venues.
---
Comments by Basel Rajoub, Dima Orsho und Kinan Azmeh

---

---

---

---


My contribution to the "Global Week For Syria"
The last stop of our 2005 Middle East trip is Ramallah. Like all other concerts of this tour organized by Goethe, this one in Ramallah is very well planned and a complete success. As a concert hall, the Cultural Palace meets all western standards. Beautiful acoustics and technically well equipped. The evening is noisy, and the day after next we fly back to Germany full to the brim with impressions. What a blast! But more about this on the following pages.