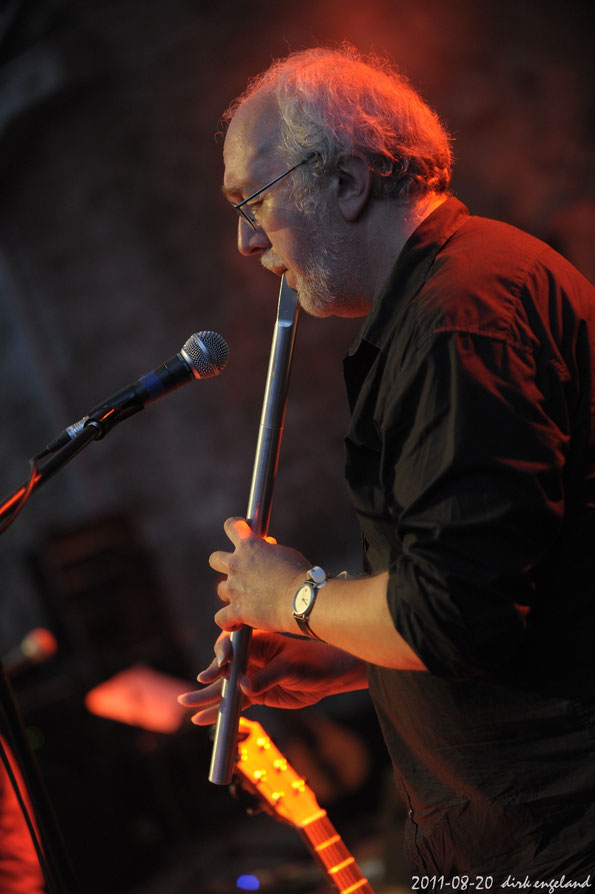 ---
EVERY NOW AND THEN HEAVEN GIVES YOU A GIFT

A look at the calendar shows I've been playing with the great fingerstyle guitarist Ian Melrose for ten years. Since starting out we have moved up and down country, from A to Z, we play in smaller and larger halls, at festivals, at home and abroad. We don't really care where we play, as long as the conditions are right and there are people at the venue who want to listen to us. And what can I say? They obviously exist.

We are both experienced travellers, who don't get flustered so quickly. When we are together on stage or travelling, each of us knows: Nothing bad can happen to me, the other one is there. We are, as far as the stress level is concerned, like the water buffalo grazing stoically in the marshland. At some point I had the association: Our common activities are "water buffalo meetings". My colleague agrees, and that has been the name of our trips around the world ever since.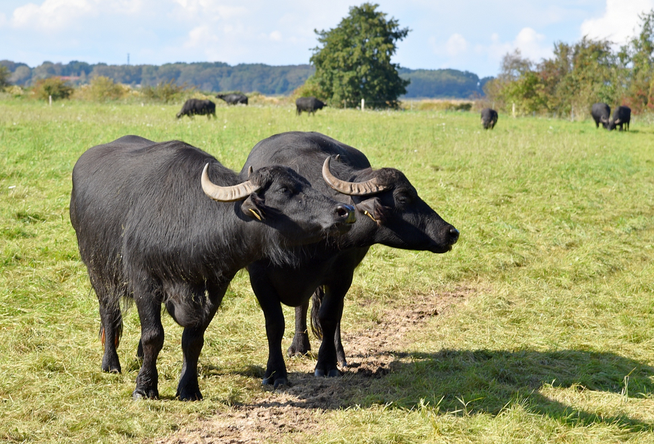 Aus Wikipedia:
A water buffalo has a head-torso-length of almost 3 meters, a shoulder height of 180 cms and a weight of more than one ton.... The domesticated specimens are usually much smaller and rarely heavier than 500 kilograms.
(Approximately)

The trunk is barrel-shaped, typical for cattle, the tail is about 60 to 80 centimetres long and has an end tassel. The far apart spread hooves give the animals a secure hold in their swampy habitat.
(...) ...
... The lifespan of a wild water buffalo is 25 years; in the care of humans, water buffalo live several years longer.


Well, that gives hope. I think it's quite a good article overall. But also outside the job a really nice friendship has developed in the ten years of cooperation.
---
FROM THE TOP:

As a musician, producer and arranger I work for and with Reinhard Mey in the Hansastudio Berlin, we produce his latest CD "Flaschenpost". The desire for one of these very lonely flutes, as we know them from the film "Titanic", for example, arises in one piece. I'll ask Alex Wende, the studio manager, if he can help me. He thinks for a moment, then he says: "There's such a Scotsman, I've heard. I'm gonna find out." Alex finds out, and a few days later he's there in the morning: Ian Melrose, the Scotsman. A friendly, tall person (at least measured against me) and he has a whole battery of different whistles with him. They're all much bigger than the ones I saw in Ireland. I'm learning: There is the traditional tin whistle, as has been used in Scotland and Ireland for traditional jigs and reels, and over the last decades there has also emerged the low whistle: an instrument whose sound gives you an idea of the vastness of the Scottish Highlands (depending on who's playing it of course …..)

 
Ian listens to the piece, chooses the right flute, I know where he should play and I also know what he could play. Ian plays. A "First-taker" he is, the Scotsman. So he has the first shot right there. We all have lunch together, I give him the invoice address and we say a friendly goodbye . A beautiful meeting.


Two years later the same game, another two years later again. Then, in 2004, we produce Reinhard's CD "Nanga Parbat" at my place in Aachen.  And again Ian Melrose is a guest on the whistle.


Flutes - Food - Fee. We know each other a little by now, and he leaves me his last CD as a parting gesture. "Listen to it..." Many musicians do this, but during such a production I cannot possibly listen to other music, the focus is 100 percent on the here and now i.e. Reinhard Mey. But two months later, the stress has died down and the holidays were relaxing. While I was ironing, I worked through the stack of CDs that all the musicians left me.


And so one day I got to Ian's CD "A Shot In The Dark". "A Scotsman in the dark?" I smile and put it into the player. The first piece: guitar-like a hammer. The second: also! By the third piece I have two questions: First, where is the whistle, and second, who the hell is playing this guitar? A look into the booklet clears things up: Ian is actually a guitarist, he just plays the whistle on the side, only he's too modest to proclaim that, let alone loudly. Well, maybe you can understand that better when you know that the guitars on Reinhard Mey's CDs were previously recorded by the unique Chris Jones. A mediocre player may not want to compete with him and would prefer to keep quiet. But Ian's not mediocre. He can certainly compete with Chris, and if I had known I had such a guitar master near me, I could have saved myself a lot of trouble finding a new one after Chris had died.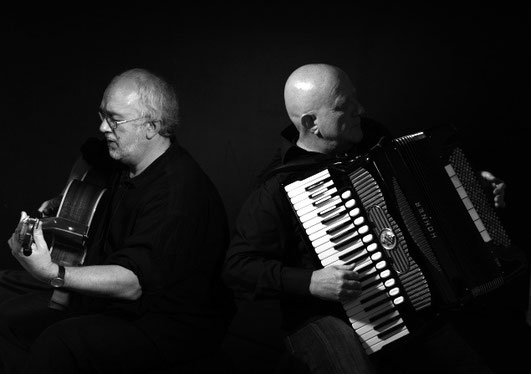 I call him and give him a good scolding. And after I've checked his tour plan, I quite boldly invite myself to play along on a few of his pieces at his solo concert at the Eschweiler Talbahnhof, which will take place in a few weeks.

And so it comes. We rehearse for two hours. The first half Ian plays solo, in the second half I appear hydraulically, dramatically rising and with sulphur secretion from the stage floor (was just a joke, I just kick through the curtain from behind) and play along. "Waceera" is the first piece. It's African-inspired, which I really enjoy. All this works so nicely and well that I persuade him at the following supper to make a CD together.                  

It doesn't really take much persuasion. Over the next few months we both send each other pieces, discussing a little and then "letting loose" our first CD "VIS à VIS".
It doesn't really take much persuasion. Over the next few months we'll both be sending pieces, discussing a little and then "losing" our first CD "VIS à VIS".
---
FINGERPICKER
Before I met Ian, I understood the term "fingerpicker" to mean someone who didn't really know how to use a knife and fork. Now, after ten years, a few hundred concerts and many meals together, I know better - knife and fork don't worry the fingerpicker. The fingerpicker is simply someone who is bassist, accompanist, drummer and melody player on the guitar all at the same time. In the past you needed at least three guitarists for something like this...

Here is an example:

And there are a further whole load of videos on our Youtube-Channel
---
OB ER ABER ÜBER OBEROTTERBACH ODER ABER ÜBER UNTEROTTERBACH ODER ABER ÜBERHAUPT NICHT KOMMT, IST NICHT GEWISS ... (untranslatable)
The opera in Damascus, the Cairo opera, the Elbphilharmonie - that's one thing. The other side of the coin is the small club somewhere in the country, mostly run by one or more madmen, who in turn need madmen like us to keep the musical landscape alive. In Oberotterbach in Southern Germany there is such a club, the "Musikantebuckl". The venue can accommodate 46 people, provided that the ladies' room is blocked by a bench during the concert, otherwise there would only be 42 seats. So the ladies have to do their business in the men's loo during the event, which leads to funny scenes here and there.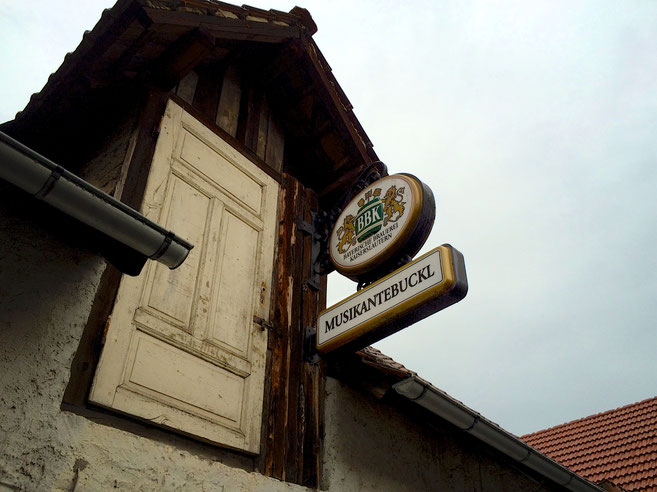 They're all crazy. The hosts, Gerri and Alfons, who turn this tiny cellar into a cosy magic house on some Friday evenings, where there are delicious flambecakes, the most excellent Pfälzer wine (for us, of course, only after the concert), and afterwards music. We who go far for almost no fee to play there. And last but not least, the audience, who also spare no effort to reach this village on the French border from afar. So everybody must be a little crazy. It has been a fairly well-known venue in no man's land for years with an exciting programme. But the real problem is to get there first. Seen from Aachen, one first drives to Cologne. From there I go to Mannheim, where I meet Ian, who comes from Berlin. Continue in the direction of Karlsruhe. Then breathlessly to Winden in the Pfalz region, only to change for the last time to Bad Bergzabern. And all this with heavy packs, several reversed rows of wagons of Deutsche Bahn, and at our late fifties. Pffff.
And so we sit there in the last train, talk and plan the evening. Then the display shows our destination. We get a little hectic, pack our things and get ready to go. We're getting off. The train continues and gives us a clear view - nothing. No house, no man, no mouse, no nothing. We're stranded in Kapellen-Drusweiler. You always wanted to be there. A fleeting digital display on the train... We have to giggle and we don't know what to do. That's how it is in being part of the jet set, in the world of the rich and beautiful. The timetable tells us that the next train leaves in two hours, which would be tight. So I call a friend in Kaiserslautern who wants to come to the concert in the evening anyway and ask her to save us. She saves us, and we reach Oberotterbach very comfortably. The evening is fantastic.

 
Of course it is clear that clubs of this size do not feed you, because Reinhard Mey (or was it Klaus Hoffmann?) is absolutely right when he says: "Even jugglers have to eat". But such places, and there are still some of them in Germany, Austria and Switzerland, offer more often a good possibility to have a stopover between bigger concerts. So we have the travel costs, the overnight stay and guarantees a nice evening. It's always nicer to play than not to play. It's just a lot of bullshit anyway... I like the small intimate connection, and if I had to choose forever between opera and club, it would surely be the club.
The one with the crazy people on all sides.
---
 HAMM MAIN STATION

Generally: When travelling, you experience things. Since I sold my car in 2007 and didn't buy a new one because I was tired of the traffic jams and assassinations on Germany's highways, I travel by train whenever possible.  And so one day I'm on my way from Aachen to Berlin. Regional train Aachen - Cologne, there change to the ICE. It's summer.
Today, by way of a change, the wagons don't come in reverse order and I can easily find the right wagon and space and a nice hiding place for my accordion between two rows of seats, one of which is placed in the direction of travel and the other in the opposite direction. This is made for my instrument, and over the years I have become a real booking fox who knows such places.

 

The train rolls off, it is relatively empty and everything is relaxed. The train attendant appears with a beaming smile and delivers her speech, only this time somewhat differently than usual: "Dear ladies and gentlemen, unfortunately we have a defect in the kitchen, and today I can offer you both lukewarm cold and lukewarm hot drinks from the on-board bistro. The posh briefcase fraction around me grumbles, but the lady has won my heart. She takes it with a sense of humour. What can you do? I'm sure she didn't break the kitchen herself. And she stands at the front, has to cushion the frustration and anger of the travellers, which she herself is not responsible for. I have a lot of respect for these people, and I'll tell them that whenever I can.
 
When she checks my ticket later, I ask her if there is a chance for a coffee in Hamm. Every addict knows it: At Hamm Central Station, the ICE coming from Cologne is coupled with the ICE coming from Düsseldorf, and there is an eleven-minute break.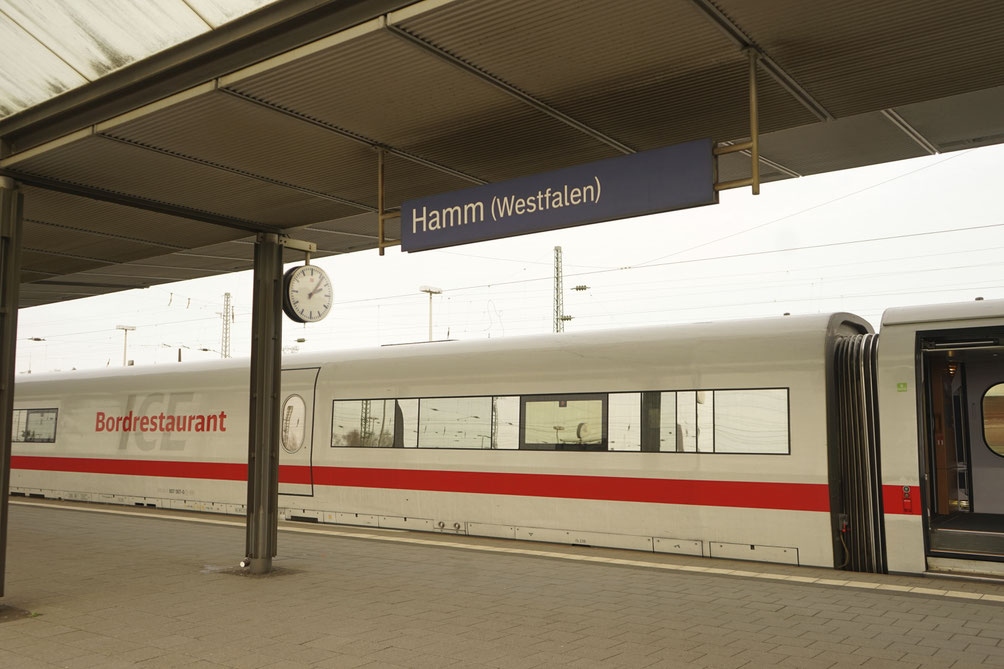 She says: "Yes, go down the stairs from platform 10, then turn left, and after maybe 50 metres you will see a bakery. "There's coffee there, I'd like one myself." That sounds good at first, but when we reach Hamm, I dare not let my instrument out of my sight for so long and stroll up and down the platform. And - as sent from heaven - there comes a man with a trolley with snacks and coffee of the way. I'll buy two coffees, one for me, the other for the lady. And as I stand there, both hands full, she comes up the stairs and also holds a coffee in each hand. One for me, the other for herself. There we both stand now, in this hilarious situation, and have two cups too many. We each give one away and everyone is happy.

 
So it is, the Deutsche Bahn, when it meets you personally and friendly.
---
BY THE WAY: NOT ALL SCOTS ARE STINGY

During our tours there's a competition about who gets to pay the evening meal bill, and we're both great masters at secretly "cheating" each other. Sometimes you pretend to go to the toilet, sometimes you pretend to make a call and apologize. The result is always the same: The bill is settled. Sometimes by one, sometimes by the other. And when you regard the big picture, everything - I believe -  evens out.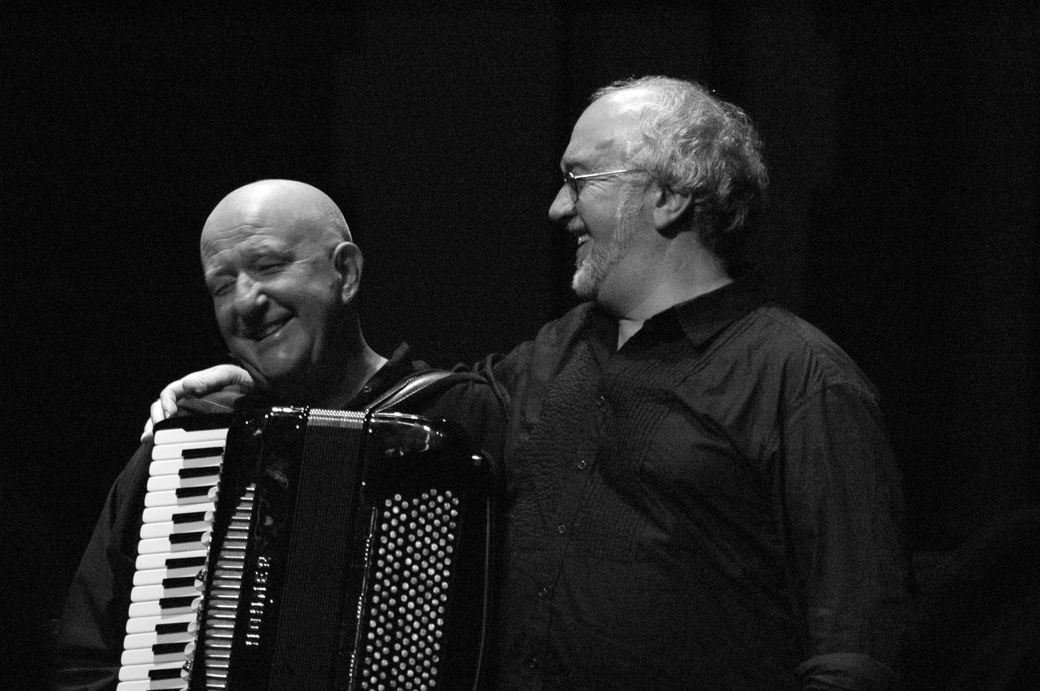 ---

FRIENDSHIP

What is friendship anyway? I think that's one of the harder questions in life. Sometimes you have friends for years and decades, and then suddenly some little thing upsets your friendship. Sometimes after many years it just seems to fizzle out for no reason. Didn't we take good enough care of each other? Did you say something decisive or not? Just drifted apart?

And sometimes a friendship falters dramatically because of some circumstance you didn't see coming. Did I do something wrong? Or was it the other person? But was it even a friendship if it can fail because of stupid little things? Friendships sometimes begin discreetly and carefully, that's proper. And at the decisive moment the right question, the right advice, comes from yourself or from the other side, which takes the matter forward. Some friendships last long, they're usually the old ones. But even these can fail.

I had to learn one thing: envy is a bad father. When the envious person sees that the other person has achieved something that he himself may have been denied, he cannot deal with it. Looking at your own missed opportunities? The look in the mirror that shows you the face you don't want to see? It's not easy.

Anyway, Ian's a friend. He doesn't have to be jealous because he has something of his own that he burns and stands for. He has the British "decency" to give the right suggestions at just the right moment. He doesn't need me, but he enjoys joining forces just like I do. He's my Water Buffalo brother...

I like him for his curiosity, his obsession with creating pieces (the man practices every single day according to strict rules). He stoically practices arrangements that I write for guitar, even if they are sometimes almost impossible to play. For his part, he challenges me with Celtic and other pieces that I have to practice for weeks. For his modesty, I like him too. He is a master who must hide from nothing and no one.

The fanatically "purist" colleagues, the "One Trick Ponies" bore me quickly. But Mr. Melrose is diversity. Musically ranging from North to South, from East to West. And he is always unmistakably one thing: Ian Melrose. And the music we make together is a beautiful and pleasant contrast to the activities with the Arab brothers and sisters and the other projects.

But I also like him as the friend who enjoys a wee dram or two of "Bowmore's Darkest" with me in the Belle Étage of the Muse-temple after the deed is done, and who knows how the dishwasher is filled the next morning.


A question which is often put to me : "And, what are you still doing after the concert?"


I: "Scottish Bulkheads tight". (not really translatable ….)
---
---